When I was living in the Boston area around 2000, I often rode out to the beaches of Nahant, a peninsula something like 15 km northeast of Boston, which features pretty beaches – this is the Forty Steps Beach last weekend:
– and pretty wild rocks with occasional dramatic splashes; this photo I've also taken last weekend: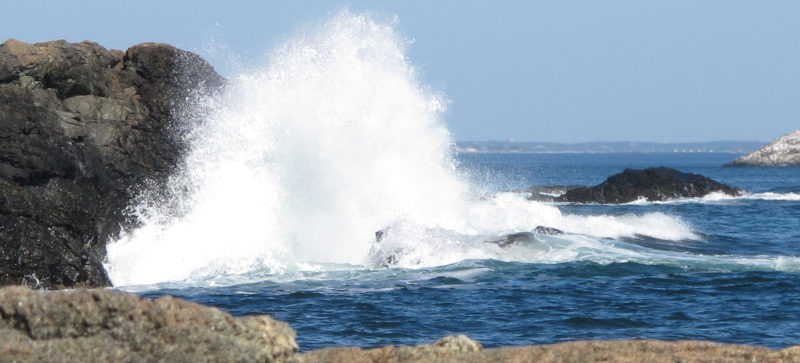 Since there's not much parking for cars on the peninsula, I have never seen the place crowded once I left the Long Beach along the dam to Lynn behind me. Nahant, as far as I am concerned, is close to a perfect paradise in a very well cyclable distance from at least the northern part of the Boston metro area, and it's living proof that the secret behind livability is getting rid of car parking (or avoiding it in the first place).
However, despite the manageable distance, getting there was somewhat spoiling the fun. I had tried various variations of passing through Everett, Chelsea, and Revere, or Everett, Malden and Saugus, weathering the dreadful Lynnway at times; it all required a serious amount of navigation and quite a bit of tolerance for cars and their drivers that were clearly unwilling to share what they considered their road. And don't get me started on constant confrontation with roadkill.
Well, right now I am visiting Cambridge again, and last weekend I used the last summer day (yes; Oct 28 had temperatures quite a bit above 25°C) to ride out there. Doing that, I discovered the miracle pictured at the top of this article: A bike path of almost netherlandic qualities. It's sufficiently wide, generally without too many twists and turns (well: there is a difficult crossing in Malden where I almost lost the trail when riding home), reasonably well marked, and there's even some great pieces of nature here and there, like these salt marshes of (I think) the Saugus river:

Almost expectably, it turns out that this miracle – named the Northern Strand Community Trail – did not come about by itself[1]. It is the work of a a group called Bike to the Sea (warnings: Google fonts, Google maps, Google Recaptcha, Google Analytics) or B2C for short, who have evidently worked for 30 years (!) to make that bike path a reality. Thank you very much indeed!
Having said that: Dear mayors of Boston, Somerville, and Lynn: Please help fixing the trail's ends. It sucks that its Boston side currently ends on what appears to be the premises of Boston's new gambling temple, the Encore, where they ask you to walk your bike along the harbourwalk:

Of course, nobody does that when the promenade is empty, but still: a connection to Somerville and Cambridge that you could ride with a clear consciousness and a reasonable pace [on the map, the Amelia Earhart Dam looks as if it could do the trick with a fairly moderate investment] would be most appreciated. Please help the great folks of B2C.
And on the Lynn side… well, yesterday I had not bothered to check a map before leaving the trail to get to Nahant. Almost inevitably, I ended up on the dreadful Lynnway, which is now even worse than it was ten and twenty years ago. Dear mayor of Lynn, please liberate a few of your streets from cars – I mention again that the key to livability is drastically reducing the amount of car parking –, and make it so people can ride from the Mystic River to Nahant with just a few road crossings.
Also, whatever you do, don't be Berlin.
There, they were advertising a "Radschnellweg" (bicycle freeway, if you will) from the Priesterweg S-Bahn Station to Gleisdreieck around 2015. Back then, you had to access that trail over cobblestone and some hidden narrow ascent (where they also asked you to dismount). See: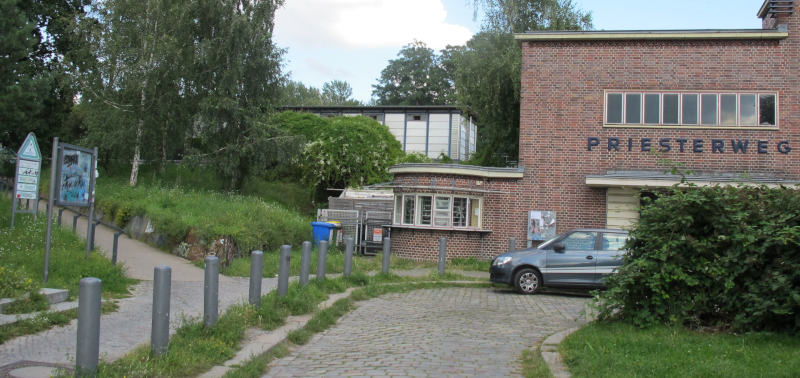 Back then I thought: "Well, that's lame – how hard could it have been to bring that at least to an acceptable level before the official opening?"
When I was there again a couple of weeks ago it turned out that you still have to pass a few hundred metres of raw cobblestone, still have to jump the curb, still have to guess that narrow ascent with the unfriendly "Radfahrer absteigen" ("cyclists dismount") is what leads to what passes for a "Fahrrad-Schnellweg" in Berlin. And neither has the other end, at Gleisdreieck, improved, where you are still thrown into some mad maelstrom of highly motorised traffic.
But even with the caveat of imperfect ends, the Northern Strand Community Trail is great fun and a huge improvement for cyclists on their way from, say, Somerville to Nahant. If you're unconcerned about Google surveillance, check out their trail map. otherwise, start here and just ride on. The trail is easy to follow except for that one place in Malden I have mentioned above.
And by the way, while you are riding the trail, don't miss out on the Saugus Iron Works just a few hundred metres off the trail.
| | |
| --- | --- |
| [1] | Neither, by the way, did the Netherlands get the fine cycling infrastructure that they have without a struggle. |